Calendar Module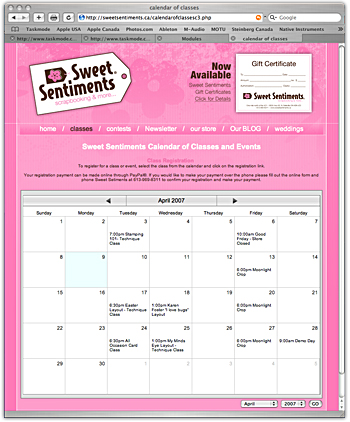 The Calendar Module allows you to add as many different calendars as you need. You can have a separate calendar for each department, committee, team, or any other category within your organization.

Checkout our demo video!




The above image is an example of an information box pop-up that is show when a hyperlink on the calendar is clicked on by a visitor. The window displays the event description and can show text, photos, maps, email links, and other hyperlinks.
Features
Each calendar will list unique events for any day of the month.
Place the events from multiple calendars on a single calendar display.
Built in event search feature.
The calendar display can be set to weekly, monthly, yearly or you can allow your viewers to pick a view.
Choose event recurrence periods (one-time event, weekly, bi-weekly, monthly) and duration.
Add detailed description, images, maps, email & website links for each event.
The calendar can connect with Form Builder to take online event registrations and payments.
Activate and deactivate events.
Bonus
Works with our Coming Events plugin to display a text list of upcoming events on any page of your website.
Powers our mini calendar plugin - an excellent way to showcase your events right on your website's home page.
Calendar can be set to not allow overlapping events which is great for room bookings or appointments.
Online registration feature can be set to a limited number of registrations and will automatically remove the sign up form when the event is full
Video Tutorial